'Sweet Magnolias' Desperate for Season 3 But When is it going to Air?
Sweet Magnolias Season 2 answered a lot of fan questions. (Who was in the car? Who are Isaac's parents?) But the hit Netflix series left viewers with just as many things to ponder, from Maddie's future with Cal to the identity of a very angry mystery woman to Helen's reaction to that huge question. And that's just the drama among Serenity's adults. There was also plenty happening with the town's younger set, including a simmering love triangle between three teen characters.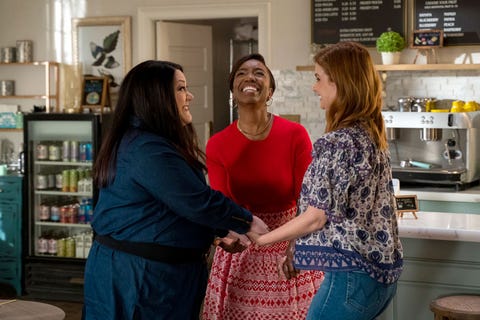 he two high school students weren't exactly friends in season 1. But in season 2, they grew closer. Annie defended Jackson after he was blamed for causing Tyler's (Carson Rowland) devastating injury. And Jackson proved to be surprisingly supportive of Annie, who was in need of a loyal friend. Eventually, the two embarked on a sweet summer romance, much to the dismay of Ty, whose relationship with Annie has been complicated ever since they shared that kiss in season 1.
Jackson and Annie might be a cute couple, but for many of the show's fans, Annie and Ty are endgame. They think Annie's relationship with Jackson will be relatively short-lived. They theorize the show will eventually push Ty (who has already broken up with his girlfriend CeCe) and Annie together, assuming Netflix does renew Sweet Magnolias for another season.
The Netflix series is based on a series of novels by Sherryl Woods. The show has already diverged in some major ways from the source material. (There was no prom night car crash in the books, for example.) But other plot points have remained mostly intact. And Ty and Annie do eventually end up together in Woods' novels. That has many fans thinking the same will happen in the show. But for now, fans will simply have to wait and keep their fingers crossed that Netflix decides to order another season of Sweet Magnolias.
3 trashy reality TV shows on Netflix
Reality TV shows are scripted, yes.They are also considered trashy by many as they hardly add any value to your daily life.A lot of people find them to be vain, but sometimes, that's exactly what you need.The heavy doses of entertainment and drama they provide are just the icing on the cake.
'Keeping Up with the Kardashians'
Keeping Up with the Kardashians gives you drama, catfights, fashion, flashy lifestyles, and a lot of gossip.To watch the Kardashian-Jenner siblings talk about their lives around their kitchen island and conduct staged fights feels entertaining.The fact that the show mostly has no dull moments works the most in its favor.This is why it was one of the longest-running reality shows.
'The Real Housewives of Beverly Hills'
The Real Housewives of Beverly Hills takes you through the lives of several women in the posh locality of Beverly Hills."The women attempt to balance their ever-evolving friendships with the demands of family life and growing business ventures, but a string of shocking events proves that living this large is more than meets the eye," reads the synopsis of the 11-season-long show.
"Get an inside look at social media's most talked-about stars as they navigate love, fame, and friendship while creating content and living together," is how Netflix describes Hype House.The show is based on The Hype House, a group of teenage TikTok personalities, who live in a Los Angeles mansion. Their house also goes by the same name.It started streaming this January.
Has Netflix Reached its Peak?
Trying to watch some of Netflix's more recent series all the way through, says Paul Weiner, feels a bit like cramming frankfurters down your throat in a hotdog eating contest.
Readers outside the US may not share the American enthusiasm for competitive hotdog swallowing. But maybe they can relate to the feeling.
We've all spent the last few years, the last two especially, binge-watching, indiscriminately, too mesmerised to click the off-button.
Are we maybe just a little bit sick of it?
That's the fear seizing executives in Netflix's boardroom right now. That Mr Weiner, a 28-year-old artist from Denver, Colorado, who loved the streaming service at first, especially for watching old favourites like Star Trek and The Office, typifies a new mood. That after years of skyrocketing subscriber growth, people will switch off, not just their television sets, but their direct debits too.
"Netflix lost some of my favourite shows," says Mr Weiner. "And I never know which show will disappear next."
He thinks there's more clickbait than there was – enticing teaser clips that don't live up to expectations – and some poor writing.
"There are better streaming deals than Netflix right now," he says.
Netflix was the first to introduce households to TV-on-tap in 2007, entering popular culture with its avalanche of output, and even spawning the phrase "Netflix and chill" as a euphemism for staying in to have sex. But since then many other streaming services have followed Netflix's lead, including HBO, Disney, Apple and Amazon, making it an increasingly crowded market.
"I've been with them from the beginning. They have some good shows, but they're not the only player in the market now," he says.
And he's not a fan of the other plan Netflix is reported to be contemplating: cracking down on customers who share passwords with other households.
"If Netflix is going to go after people who have a subscription, they're going to annoy them," Mr Biggins predicts. And it may not have the outcome they're hoping for.
Aram Asai Munoz, a law student in Santiago, Chile, has shared a Netflix account with his parents and sister, who live in separate households, for several years.
Since he first signed up – eager to tune in to crime drama Better Call Saul – the monthly cost of the service has roughly doubled, he says.
Many of his friends have already cancelled over the price hikes and quality of content and he says he might well do the same if the firm does clamp down on password sharing – after all Netflix is a "frivolity" compared to the other bills that need paying, he says.
The Resident Has Added A Brat Pack Alum To Season 5
Fox medical drama The Resident is going to be seeing some big changes in the remaining episodes of Season 5. On top of Emily VanCamp's return in the upcoming finale, Brat Pack alum Andrew McCarthy has joined the cast.
Via Deadline, Andrew McCarthy will recur in the final three episodes of Season 5 of The Resident as Dr. Ian Sullivan. As a charming and narcissistic pediatric surgeon of considerable talent, he plays hero to his patients at the hospital, but his relationship with his daughter isn't so straightforward. That's not surprising, as The Resident's official Twitter account reveals that his daughter is none other than Cade.
If The Resident is renewed for a sixth season, McCarthy's role reportedly has the potential of being upped to series regular. Since we still don't know too much about Cade and her backstory, introducing her surgeon father could be the perfect way to air out any other secrets that she's hiding.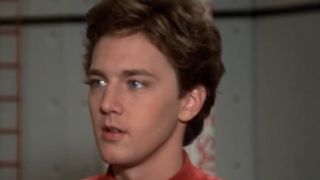 Aside from that, McCarthy has also appeared on Gossip Girl, Good Girls, Lipstick Jungle, and 13 Reasons Why, among others. He has also directed episodes of shows including Good Girls, Condor, The Blacklist, Orange Is the New Black, and Lipstick Jungle.
There is no word yet on a Season 6 of The Resident, but news can come at any time now. Hopefully, there is another season since it seems like Dr. Ian Sullivan could make for some very interesting storylines, especially if Cade turns out to be the next love interest that Conrad pursues.
Fingers crossed that news on a sixth season comes out soon, but in the meantime, new episodes of The Resident air on Tuesdays at 8 p.m. EST on FOX! Andrew McCarthy's first episode airs on Tuesday, May 3. Check out CinemaBlend's 2022 TV schedule to see what else to look forward to.
We're going to see them really at odds for the first time in this season. It'll be also tied into some surprises in Devon's career. While the Carol-Raptor is obviously the emotional and dominant story in the episode, that rabies medical case is really cool and one I really love for the show. It's also great because Conrad-Devon working together is the meat and potatoes of our show. But this wonderful success that they have opens up unexpected possibilities for Devon because it's a very rare thing to cure rabies, to save someone who's already been bitten. Based on the complications with Leela and suddenly he's blowing up in a scientific way, there's a lot of drama and potential pitfalls and we settle it in a really cool way in [the finale].
How significant is the danger to Conrad (Matt Czuchry) when it comes to what's going on with the fake prescriptions? Or is that more something Cade (Kaley Ronayne) has to worry about?
Yes. In Episode 20, it comes to a head because they have an unexpected patient in the emergency room who holds the key for breaking open the story and the case and off that, there are some interesting and scary moments for both of them that will lead to a lot of the action and drama that we lay out from [Episode] 20 through 21, 22, and 23. It's a pivotal — while 19 is a very pivotal episode, Episode 20 just really lights a burner under the stories as we go forward and finish the season.